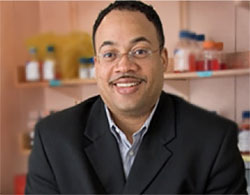 Dr. Milton Brown is a medicinal chemist who specializes in the design, synthesis and evaluation of new drugs. Dr. Brown is recognized as one of the top translational drug discovery scientists in the US today.

Dr. Brown obtained his PhD in synthetic chemistry from the University of Alabama at Birmingham under Dr. Wayne Broyillette in 1995. He went on to obtain a medicinal degree at the University of Virginia in 1999 before securing a postdoctoral position in the chemistry department at the University of Virginia.

In 2000 Dr. Brown became an assistant professor in the same department where he began his independent research. Brown was tenured at Virginia in 2003 and promoted to the position of associate professor. Dr. Brown's unique training positioned him to combine the tools of chemistry and medicine to solve important clinical problems. During his time at the University of Virginia, Brown published over 25 articles in peer-reviewed journals and had 16 patent applications. He also received numerous grants including funding from the National Institutes of Health to investigate new drugs that could be used to combat epilepsy and prostate cancer. Brown tested over 450 drugs to treat epilepsy; several of these drugs are now undergoing clinical trials. Dr. Brown's pioneering work had led to him being dubbed "Dr. Drug Discovery."

In 2006 Dr. Brown moved to the Lombardi Comprehensive Cancer Center at Georgetown University where he serves as a principle investigator and director of the Drug Discovery Program. In 2008, Georgetown University appointed Dr. Brown as the Edwin H. Richard and Elisabeth Richard von Matsch endowed chair in experimental therapeutics, in recognition of his numerous scientific achievements. Brown has given more than 50 invited lectures in the US and Europe on drug discovery and development.